Guest written by Danielle of DutcherEsthetics.
Congratulations you're getting married!! We all want the big day to go as smoothly as possible and sometimes the face is missed in the whirlwind of planning.
You want your face to be glowy, hydrated, and looking its best so you don't need to wear a lot of makeup. My name is Danielle of DutcherEsthetics. Throughout this 3-part blog series, I'll share with you my tips and tricks to help you get – and maintain – healthy glowing skin for your wedding day!
PART 1: Facial Treatments
Your skin needs love and attention. If you are able to start going to an esthetician (hi!) once a month for at least 4-6 months before your big day that would be ideal.
Getting professional facials will really help your skin be the best it can be and being able to talk with a professional about all of your skin concerns is priceless. Did you know? Your skin cells are on a cycle of shedding on average every 5-6 weeks. Because of that, it's important to get a facial at least every 4-6 weeks.
I recommend HydraFacials. They are an amazing example of a truly helpful treatment. It's the only hydrodermabrasion treatment that combines cleansing, exfoliating, extracting, and hydrating at the same time. It give you the ultimate glow!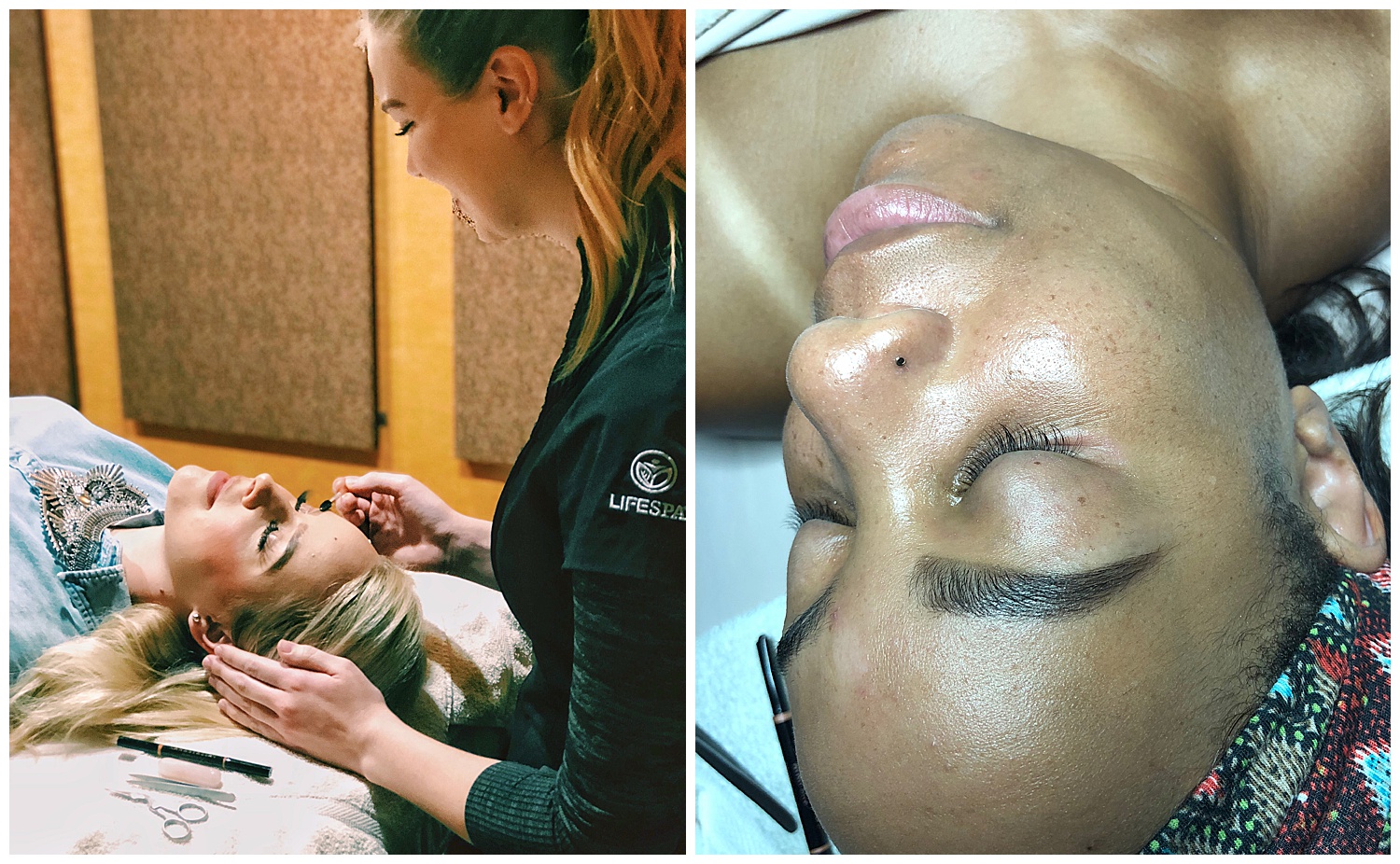 Photo courtesy of DutcherEsthetics
An added benefit of getting facials? Relaxation time! Use that time to de-stress from all the wedding planning you're doing. An hour facial usually includes massage that will help you relax even more! In the last part of this series, I will talk about all the ways stress can reek havoc on your skin (spoiler alert: there's no good to come from stress).
Implement an at home regimen
First thing is first: you need to understand that the products that work for your friends, your mom, your cousins, etc. may not work for you. You need to get professional products that are tailored to YOU.
I recommend using professional products because they:
1) Have science backing them up
2) Use quality ingredients
3) Have higher doses of those ingredients which means they typically work more quickly
And if you have skin concerns you want to address, I cannot stress the importance of seeing a professional esthetician paired with a good home regimen!
Did you know that 80% of results come from your home regimen? Think about it — you see your face everyday and I, or your esthetician, see it once a month. You don't go to the dentist every six months and not brush your teeth twice a day, everyday, right? Your home regimen with solid professional grade products are so vital to the health of your skin!
If you already have your ride or die products that you love, perfect! Stick with them and think about seeing a professional to get facials to enhance your skin.
If you don't, use hydrating products to give you the glow you deserve! Again, if you have a routine down, stick with it. Don't stray too far from your regime especially as your wedding date gets closer. If you have skin concerns, and don't have the budget to get monthly facials, go at least once to talk about what the problems are and how to fix them. The professional will know which products to recommend to you for the condition your skin is in.
With my clients, I like to say the simpler the better.
Photo courtesy of Vivier
A cleanser than I love really for most skin conditions is the Vivier Medicated Wash. It helps to remove excess makeup, eats away at the bacteria and impurities in the skin, clears up breakouts, and prevents future breakouts without stripping the skin. It's a wonderful cleanser for really everyone, but if you have super dry and dehydrated skin this probably wouldn't be for you. I would recommend using Phytomer's Gentle Cleansing Milk instead.
Exfoliating is also very important to remove those dead skin cells so the products you apply after, really sink into the skin and can do their job. You can't rehydrate dead skin. So unless you have very compromised skin, it is super important to exfoliate. I absolutely love Phytomer's Vegetal Exfoliant ("I do too!" says Lauren). It is a wonderful creamy chemical exfoliant that is okay for all skin types. I typically recommend exfoliating 1-2x per week, unless otherwise told by your esthetician.
Photo courtesy of Phytomer
If you're going to invest in a product, invest in a good serum. Professional grade serums have highly concentrated amounts of active ingredients.
I always recommend a Vitamin C serum. Vitamin C (L-Ascorbic acid) is one of the most vital molecules for skin health because it is a potent antioxidant. It helps prevent and treat UV-induced photodamage, improve the appearance of signs of aging, and stimulates collagen production. I always recommend Vivier Pharma's Vitamin C serums because they have one for each skin type (Serum 10, Serum 20, Kine-C, and CE Peptides…the latter is what Lauren uses). You can reach out to me to find out which one I would recommend for you.
Photo courtesy of Vivier
Moisturize, moisturize, moisturize! It is a crucial part of your daily routine. It is important to find the right type of moisturizer for your skin.
Water is constantly evaporating from the deeper layers of your skin (a process called Trans-Epidermal Water Loss, TEWL for short). Your skin regulates its water content which creates a dry, easily shed barrier against dirt, bacteria, and damage while protecting itself from becoming dried out and brittle. Emollients help prevent evaporation of water by forming an occlusive coating on the surface of the skin. This is why moisturizers are so important: so your skin doesn't get dry and the water in your skin is regulated.
Photo courtesy of Lexli.com
As important as moisturizers are, you also need to find the right one for your skin condition.
People with dry, flaky skin typically need thicker creams. The ingredients to look for in a moisturizer for dry skin are ceramides, hyaluronic acid, shea butter, and urea. Avoid ingredients like Isopropyl alcohol, Sodium chloride, and surfactants like Sodium lauryl sulfate and Sodium laureth sulfate. They are very irritating and stripping ingredients.
If you have sensitive and/or reactive skin, ingredients like white tea extract, green tea leaf extract, and sunflower oil can help to repair your skin's moisture barrier and soothe the skin.
People with oily skin usually need a lightweight gel formula. Hyaluronic acid is so good because it's lightweight and it hold 1000x its weight in water. It is like a huge drink of water for your skin! Even when your skin is oily, it needs to be hydrated!! If your skin is dehydrated, it will overcompensate by producing more oil. Look for products with ingredients like Hyaluronic acid, clay, Glycolic acid, Niacinamide, retinol/Retin- A, and Salicylic acid. Avoid ingredients like petroleum and mineral oil. Those are very comedogenic (pore clogging).
PRO TIP: if you use clay masks, do not let them dry down all the way. Remove it while it's still a little tacky. If it does dry all the way, place a warm, damp cloth over your face to loosen the clay mask first, then remove.
When it comes to your skin be intentional. Have a purpose for every movement and every product you put on your face and neck (please don't forget the neck!). You want to be connected with your skin because skincare is self-care. The skin is a communicative organ that needs support in order to find its way to self-healing. When you touch your skin it is an opportunity to be gentle with yourself and practice mindful healing.
I sincerely hope you learned a few facts that will help you in your skin journey. Be gentle, loving, and mindful to your skin. In the next blog of this series, we will explore the best and worst foods for healthier skin! I hope to see you in my treatment room soon!
Danielle, DutcherEsthetics
For more information about this and other skin related topics, contact Danielle at:
Instagram: @dutcheresthetics
Email: dutcheresthetics@gmail.com (consultations in person only)
Booking: Crosstown LifeSpa 952-943-4624